Hermanus Lagoon | River Kayaking Trips
Enjoy the Klein River Lagoon on one of our canoe trips. The Klein River, also know as the Hermanus Lagoon, is located 5 km out side of Hermanus.
It is 10 km in length surrounded by the Klein River Mountains, Walker Bay Nature Reserve and it finds it entrance to the sea by Grotto beach. There are a 130 bird species, including some of the rarest coastal breeding birds in Africa and the majestic fish eagles. Steen bras, harders, springers, elf & kob are some of the fish species that attract many fishermen to the area. In addition to this the lagoon boasts magical sunsets and is a special treat at full moon.
Enjoy a real outdoor adventure and explore the untouched lagoon and river system in safe, stable canoes in the company of an experienced guide. The Lagoon/ River boasts over 130 bird species including the African Fish eagle and some of the rarest coastal breeding birds in Southern Africa. The lagoon offers a safe canoeing experience for all abilities with Majestic River and mountain views.
+- 5 hours, inclusive of guide, equipment, lunch and refreshments. The bird life on the river and lagoon is a highlight on this trip.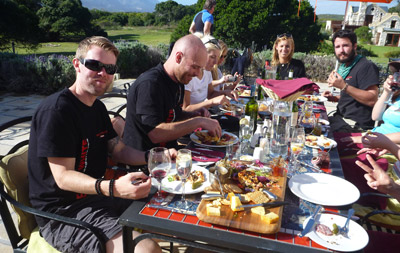 Experience the thrill of paddling on one of the country's most pristine lagoons where adventure is enjoyed with elegant food and wine!
Guests paddle on super-stable, extremely safe paddling kayaks - perfect for first-time paddlers, and all outdoor lovers.

We launch at the Hermanus Yacht Club on the Hermanus lagoon, home to an amazing array of birdlife, and breathtaking views of the towering mountains above.
Surrounded by nature, we glide across the lagoon towards the shallow, safe waters.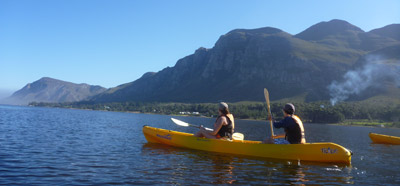 Our destination is the historic Mosaic Farm, where we relax outdoors in the shade of the milkwood trees to enjoy delicious, award-winning Cape wines from nearby estates upstream, and sample freshly-baked fare from the excellent restaurant. We then tour the eerie Stanford Spookhuis - the haunted old stone manor house built in 1892, which has now been refurbished into a stylish getaway.

Satisfied and happy, we launch back on to the lagoon's warm waters, and paddle gently back towards Hermanus, for a safe and delightful adventure home.