Grabouw / Elgin Zipline Tour
Cape Canopy tour is situated in a World Heritage Site within CapeNature's Hottentots Holland Nature Reserve, located in the scenic Elgin Valley. It is a system of cables and platforms that allows guests to explore this previously inaccessible ecosystem, with breath-taking views. This eco-tourism activity not only allows people to enter and experience the Cape-fold mountains at their best, but is also a platform to raise awareness of the beauty of the plant and wildlife species surrounding them.

Construction of Cape Canopy Tour has been done in accordance with strict civil engineering standards. The system was designed and built by a Canopy Tours engineer to ensure utmost safety and client experience. Environmental impact studies are undertaken prior to construction to ensure that the surrounding ecology is not harmed in any way. Strict environmental management plans have been adhered to and the construction of Cape Canopy Tour was carried out with the approval of the Department of Water Affairs & Forestry, the Department of Environmental Affairs & Tourism as well as CapeNature.
The tour consists of eleven thrilling slides, some over 300m long, each ending on a platform constructed on the cliffs and fynbos covered mountain slopes above the Riviersonderend Gorge. A unique suspension bridge between a narrow sandstone ravine high above a spectacular double waterfall is guaranteed to be one of the unforgettable highlights of the tour.

This a fully guided nature experience with a strong emphasis on client comfort and safety. Two trained guides will accompany each group on the 4-5 hour tour. They will provide information about the endemic fynbos and geology of this unique World Heritage Site. Included in the tour is a 4x4 journey through the nature reserve, refreshments on one of the cliff-side platforms.  The tour is suitable for almost all ages (5-75years is the recommended limit) and will operate in most weather conditions.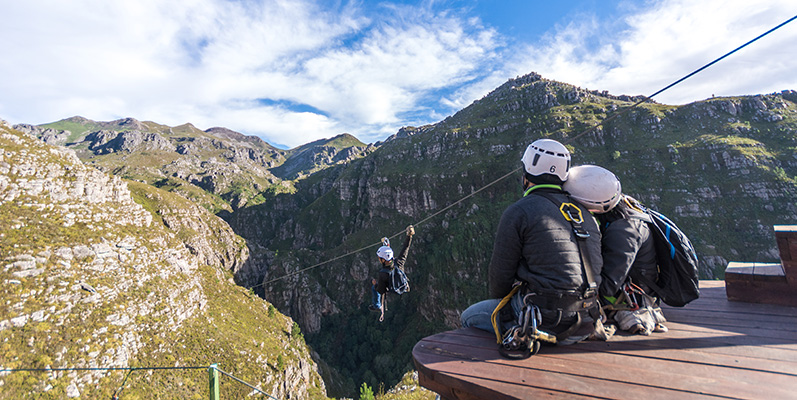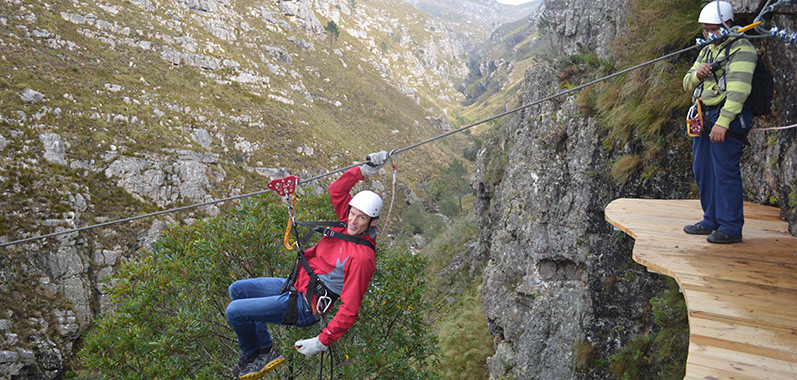 Tour Includes:
Park Fees
A return 4x4 trip
Fully Nature Guided Tour along 13 elevated platforms
A secret snack Stop on route (biscuit and juice / hot chocolate)
Rain gear will be provided in wet weather
A Complimentary light meal at the Sunbird Cafe
Currently a freshly baked home made pie with salad

What to Bring:
Warm clothes - weather in the Cape can be unpredictable, especially up in the mountains
If it's warm, sunblock and a hat are advised
Comfortable shoes and clothes
Rain gear will be provided in wet weather
High above the ground (some as high as 40 Meters above the ground ) the guides will allow you to glide (zipline) from platform to platform with only the local eagles and birdlife noise echoing in the forest.
The 10 platform slides range from 20 meters to 180 meters and with a safe breaking system you control the speed you travel at. So it could be a fast adrenaline experience or it could just be a slow easy glide high above the ground. Come and experience something different but forever memorable. The whole zipline tour in hermanus experience takes under 2 hours and is only a few kilometers from Hermanus and based on the Hemel & Aarde road.
Hermanus Zip lines now extend from the mountain canyon and zip lining over a small waterfall between the Poplar Trees and Canyon makes this an even more memorable experience. To also further enhance the experience we have created a large quad train to transport guests up to the starting point in the mountain - no more long walks to get to the start.
Group bookings must confirm the time they have available for the experience and we will try and fit to the time available