Hermanus Whale Watching Walking Tours
Shored-based Whale Watching in Hermanus allows you to witness our incredible gentle giants of the sea, while you have your feet on solid Terra-Firma. Be part of a remarkable phenomenon, the largest migration of gentle giants in the oceans of the world, which visit our shores in Hermanus each year.
Nowhere on the African continent could you experience the ultimate close-up viewing pleasure of Southern Right Whales in such abundance, with sometimes as many as 100 being spotted in one day.
This tour starts at the Whale Museum, where you will have an introduction to the Whales of our oceans; followed by an in-depth educational by the author of the famous book "Whales of Hermanus", who has studied and photographed the Southern Right Whales for the past 10 years. He will then escort you along our breathtaking cliff pathways of Hermanus to see, smell, hear and photograph the whales, while he explains all the myths and facts of the Whales and their life cycles.
Each month we also offer Full Moon Whale Walking Tours that give you a completely different perspective, allowing you to hear their echoes along the cliffs of Walker Bay to De Kelders. Sometimes their exhale of air and water forms a halo over their heads when phosphorescence appear in the water.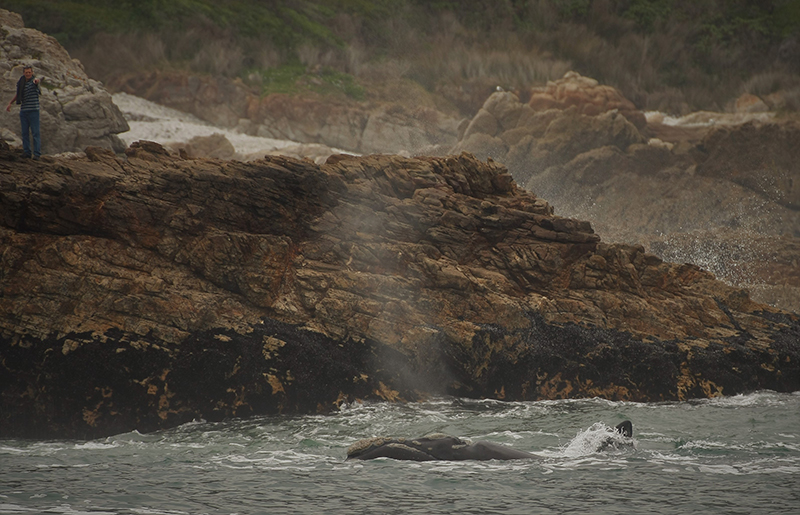 Your guide will also introduce you to the starry southern hemisphere night skies and its brilliant arrays of star clusters like the Southern Cross and the Milky Way.
These tours take place on the western side of Walker Bay, close to the town centre and in the whale sanctuary, exploring all the secret little hidden coves and inlets where the whales raise their young.
Our tours are personalised, safe, wheelchair friendly and conclude with a complimentary coffee, cappuccino or a beer.