Explore the magic of our unique coastline with its abundant marine life up close and personal in one of our stable kayaks in the company of an experienced guide. Glide across sparkling water while enjoying a view of the majestic mountain, sea cliffs and marine life.
After a thorough briefing on kayaking techniques and safety we paddle from the historical Old Harbour and do a round trip, the direction dependant on winds, swells and paddling abilities. A knowledgeable guide shall open up the wonders of our ocean to you, as we explore the beautiful natural surroundings.
We paddle our kayaks in a Marine Reserve and by law we are not allowed to come within 300m of a whale. If they decide to come close to the kayaks we must move away from them.

We are very aware of our environment and are proud of the fact that we are an ecologically friendly operator that strives to have as little impact on the environment in which we operate our tours as possible. With minimal noise pollution and no environmental pollution we also do regular clean ups of any rubbish found in the Bay.
We use Perception Tribe sea kayaks that are manufactured in the UK and are sit on top self-bailing, plastic sea kayaks. In short this means that anyone, whether you have kayaked before or not, can hop on and stay on.
Our guides are qualified in marine guiding and first aid at sea, but more importantly they love this job and hold great knowledge of the ocean.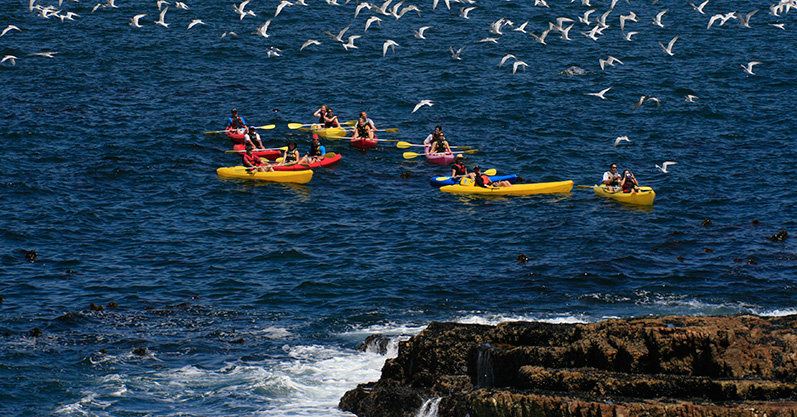 On our tours you will enjoy sightings of cape fur seals, penguins, cormorants and other sea birds and marine mammals. Whatever time of year this is an experience not to be missed.
Duration 2 hours.
No Experience necessary.

You will need: shorts, towels, t-shirt, sunhat, sunscreen, windbreaker or fleece (weather dependant) and a change of clothes for afterwards.
Excessive wind and swell conditions will result in cancellation of the sea kayak trip. We reserve the right to cancel the trip at any given time and shall not be held responsible. We try to avoid this from happening by departing to sea in the mornings when conditions are more favorable. These times change through out the year and can be confirmed on booking.
DEPARTURE TIMES:
November to April: 8h00, 10h30 and 1pm
May to October: 9h00, 11h30 and 14h00

Click here for FAQ on Sea Kayaking
You can view Walkerbay Adventures on CNN
Just wait for the advert to finish and then you will see this fantastic footage! Local photographer, Dave de Beer also features after our insert.