Gansbaai Shark Cage Diving
Shark cage diving in Gansbaai  can provide you with unique opportunities to witness the wonder of Its varied shark life. These sharks include the Great White Shark, Bronze Whaler Shark, and Seven Gill Cow Shark. You can dive with these beautiful underwater creatures from the safety of your cage in a safe and professional environment. Divers and non-divers can rest assured that diving and observing will be a secure and wondrous experience.

Arriving in Kleinbaai
You will arrive at the home base in Kleinbaai. It is a stone's throw away from Kleinbaai harbour named" The Great White Shark Capital of the World". You will be greeted by the team and tuck into a full continental breakfast with a choice of hot and cold drinks. Here you can change into your swimming clothes and ask any questions you may have. Your skipper will give a safety briefing explaining exactly what will happen whilst out on the ocean and the fully trained crew will look after every aspect from wetsuits, to diving gear and snacks.
Once everyone has their  lifejackets on, you will take a 1minute walk down to the boat. Shark Team is a 36 ft, 4 tonne catamaran custom built for shark cage diving and viewing. There is a 30-passenger capacity limit scaled down to 20 clients plus five crew to ensure your comfort and viewing pleasure throughout your adventure experience. You will then get immersed in all things shark, being taken on an adrenalin-surging adventure experience.  One of the marine biologists will be there to explain how the sharks are worked in the area and how you will spend the next 2 - 4 hours diving and viewing these wondrous predators in their natural habitat
If you want to cage dive with some of the best sharks In the Southern Hemisphere, this is the place to visit.
As the day unfolds
Once the boat has launched from Kleinbaai harbour the boat ride takes around 20-minutes to the diving area. Upon arrival the boat will anchor and the crew start to 'chum'. This is an area where sharks are known to frequent. By releasing a salmon oil into the water it ensures that sharks circling the boat underneath will pick up the scent and come closer to investigate.
Sharks are usually wary at first and it might take a while for them to settle.  The dive cage then gets lowered. Once an initial glimpse of the first shark fin has been witnessed the first guests enter the cage (takes 6 people) and spend about 20-30 minutes face to face with the sharks! The divers are rotated, so everyone has the chance to dive if they want. Anybody that wants to dive twice are more than welcome to. There is enough time to ensure everyone gets enough 'cage and camera' time.
Equipment
The crew provide all necessary diving and safety equipment for you to enjoy your cage diving experience in South Africa in comfort and security. This include thick 7mm wetsuits with hoods, boots, mask and weight belts. Towels and blankets are also provided to you onboard if needed and towels are available for you to use once back at the headquarters after a nice hot shower.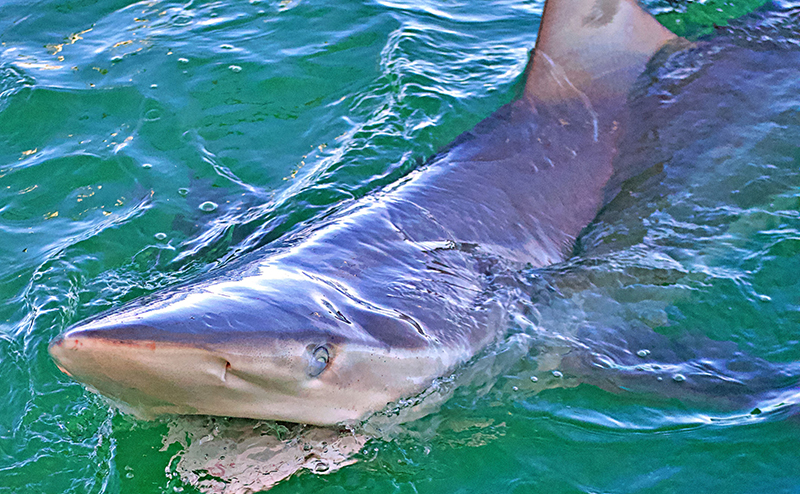 Lunch and refreshments
You are offered fresh filtered water, home made snacks and a seasonal fruit basket. Fresh popcorn with a selection of seasonings is also available to enjoy and take on board. Once back on land there will be homemade vegetable soup and a selection of toasted sandwiches waiting for you. If your trip arrives back later in the afternoon  macaroni and cheese with a salad selection is available. Fresh banana and apple bread is available during morning and afternoon trips which is a popular option. Please let us know regarding any special dietary requirement. Catering for this can be arranged.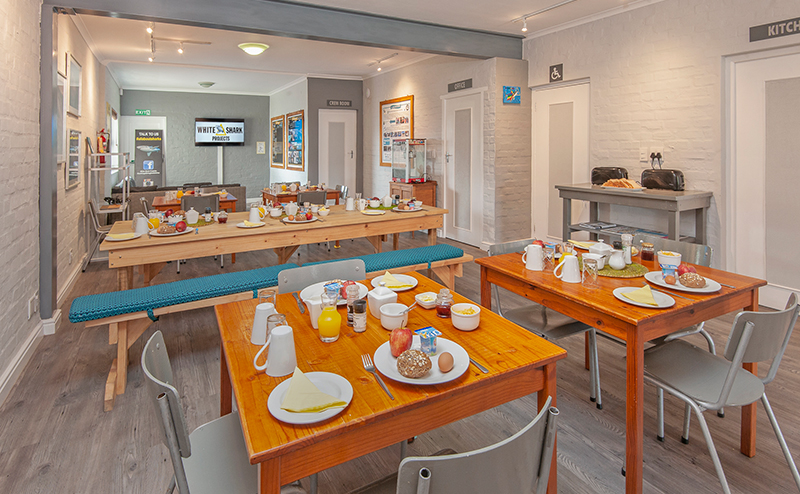 What do you need?
No diving experience is necessary
Bring your Swimsuit
Sun Protection
Anti-Seasick tablets is strongly recommended.
A warm jacket and sensible shoes
How to find Kleinbaai
Shark Cage Diving takes place in Kleinbaai, about 2 hours' drive from Cape Town. For self-drive clients, you will be issued detailed directions with GPS locations.
The 'door to door 'shuttle bus is available to collect from hotels in Cape Town, Hermanus and surrounding areas. Pick up time from Cape Town can be as early as 4am depending on the tide and sea conditions. Be assured, your experience with the sharks will make getting up so early, completely worth it!
Please note: Due to tides and sea conditions, confirmation of exact collection times can only be confirmed at 16h00 on the day prior to your dive.
ADDED VALUE ITEMS:
Continental breakfast at the ocean view lodge
Snacks and water are available on board
Guided talk on the sharks seen during the cruise
All diving equipment is included
Light lunch is served on your return to shore
Luxury shower facilities at the lodge on return
Dive experience certificate awarded to all divers